STOP FEELING ANXIOUS & OVERWHELMED AT WORK
START CULTIVATING CALM SO YOU KICK ASS WITH CONFIDENCE

 Imagine having the natural ability to create clarity, focus, energy or relaxation EXACTLY when you need it..
Close your eyes for a moment, take a breath and imagine having the natural ability to create clarity, focus, energy or relaxation exactly when you need it? How does it feel? Liberating? Powerful? Exciting?  
How good does it feel to be in control and know you have the knowledge and skills to change your state whenever you want? How incredible does it feel for you to make life happen rather than life happening to you? 
 As a creative professional who gives a shit about what they do, you KNOW how HARD it can be to kick ass confidently when you want to, get laser focused when you have to and really relax when you god damn need to. 
As a passionate entrepreneur or hard working freelancer, you KNOW the reality that despite the self care you promise yourself, after all the visits to the gym, omming on the yoga mat and eating the 'right' kinda foods, you are still feeling overwhelmed, frazzled and anxious at work. 
And let's face it. That's not much fun is it? 
Being tired and overwhelmed at work tends to make you overwork, end up a grumpy exhausted mess after work and with zero chance of having a laugh with family and friends in your time off.  
But the good news is...it doesn't have to be like this...and the answer lies right under your nose!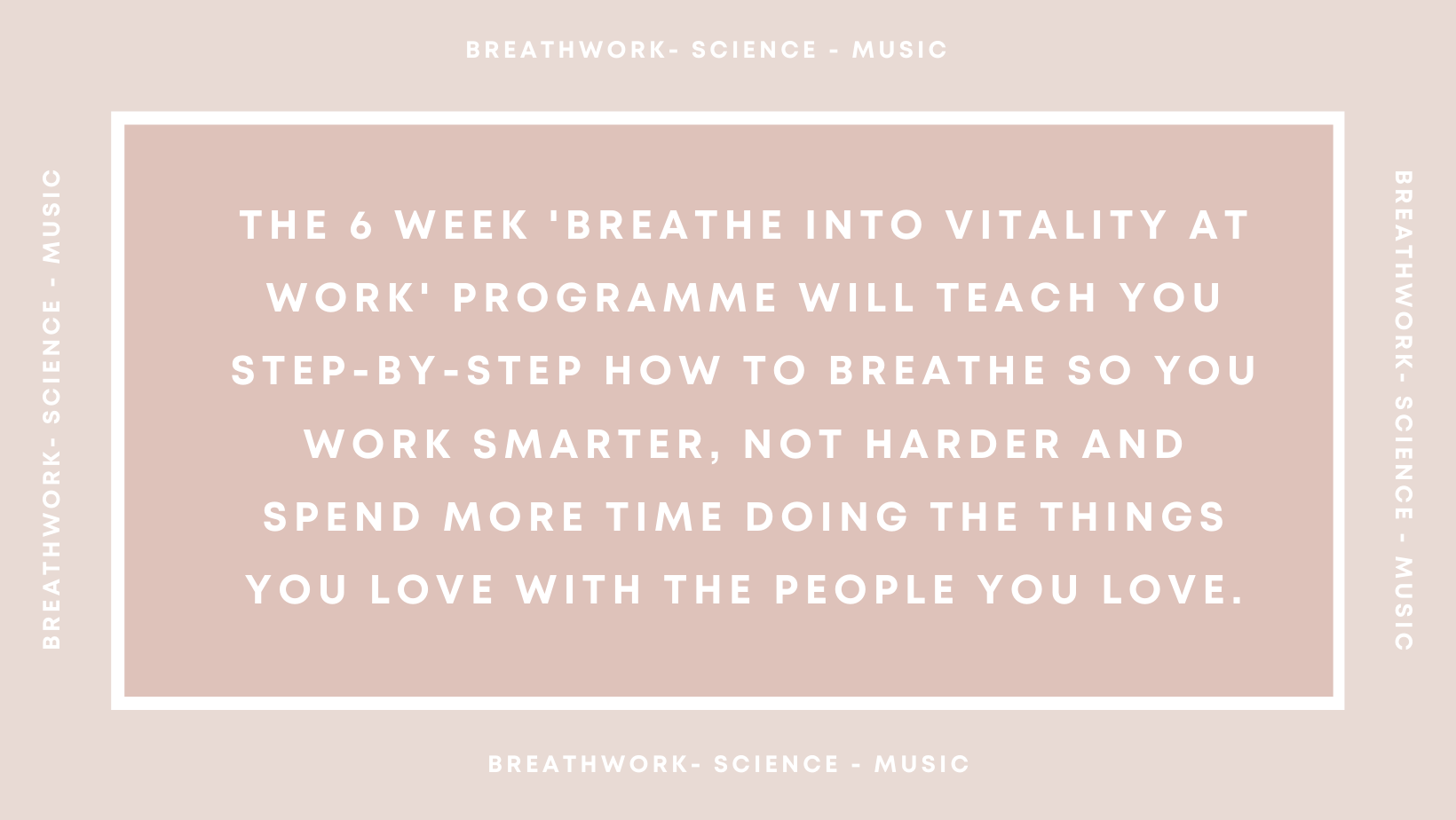 In 'Breathe Into Vitality at Work' we focus on: 
Boosting energy levels :
Harness the power of your inhales to create oodles of energy wherever and whenever you need it. Become super confident and focused during your working day and hit those deadlines ( without even going near a double espresso)   
Relaxing on demand :
Cultivate the physiological power of your exhales to stimulate your parasympathetic nervous system (rest and digest) and create moments of relaxation during your working day so that you work smarter rather than harder and leave work with a spring in your step ready to do fun stuff with the people you love. 
Dealing with stress in real time: 
No need to drag the yoga mat out in the middle of a Zoom meeting! Learn tools and techniques based in neuroscience that you can use in the moment, anytime, anywhere to calm down, feel centred and respond to situations rather than react. 
Finding inner balance :
Discover powerful science based breathing techniques proven to reduce stress and build long term resilience so you can lean into whatever work and life throw at you with confidence and feel happier and more creative. 
Creating a unique and personal practice :
Witness and journal the profound and subtle changes in your body, mind and spirit during the 6 week Breath Quest so you can learn which practices personally work best for you and are easiest to weave into your daily routine and make the most positive changes to your life.
How breathwork helps you achieve vitality:  
I'm TJ Sullivan and I'm a certified breathwork coach and ex stressed out digital marketer and I want to share with you how to say YES to the power of the breath and NO to overwhelm , anxiety and stress.
Breath is your best ally as it is the most powerful and transformational self care tool on the planet and aside from the rather obvious and important job of keeping you alive - it really can boost your mental, physical and spiritual wellbeing.
Plus, rather handily, it's accessible 24/7, takes up zero room in your handbag, doesn't need some weird adapter and it's just under your nose! 
Breathwork can be used as part of a daily practice but also in real time situations when you just aren't able to whip out the yoga mat and get into child's pose in the middle of a stressful zoom meeting!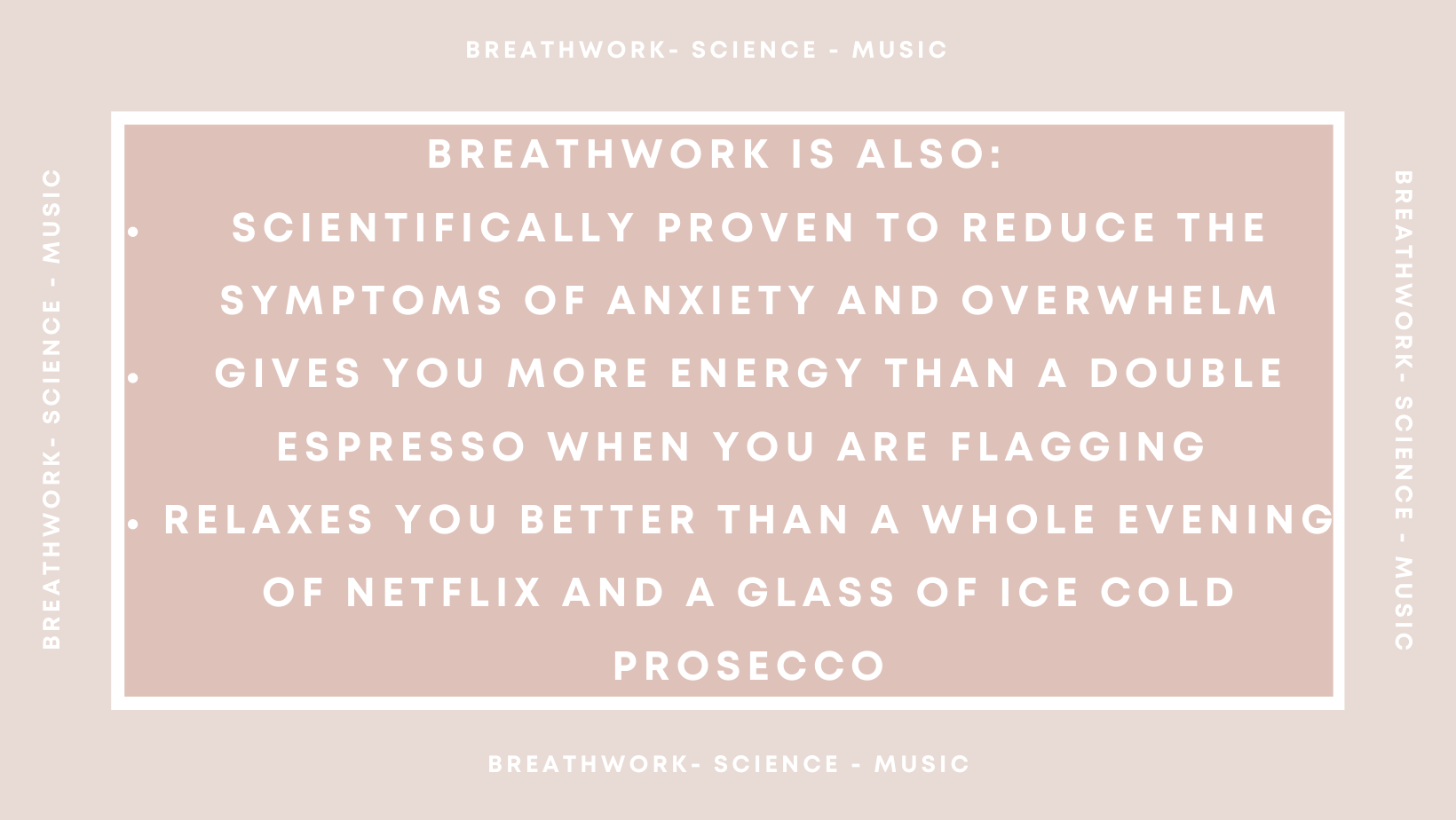 That's because respiration is the foundational pillar of our biology and affects every single system in the body. And when we breathe it's not just happening automatically. Our breath ALSO happens to be under our conscious control.Go on, take an inhale right now. Hold it for 2 seconds. Now exhale. See? 
And the good news is that ANYONE can learn to use their breath and when you change the way you breathe, you truly transform the way you feel, live and work.  You feel healthier, happier and VITAL!
Would you like to feel less anxious at work and have more energy to enjoy life with the people you love?
If so then I would love you to share with you my 6 week Breath Quest 'Breathing for Vitality at Work.'An online group course expertly designed to teach creative professionals how to use what's under their nose - their breath - to cultivate what they want; energy, focus, calmness and confidence and better health and wellbeing.
What's included: 
9 hours of live online group training over 6 weeks ( 6 x 90min workshops) where you will learn a series of incredible science-based breathwork techniques and other tools rooted in neuroscience to help reduce stress and anxiety and cultivate energy, focus, calmness and resilience 
Call recordings so you can catch up if you miss a workshop or if the timezone doesn't work for you. Also so you can replay your favourite bits of the course again and again whenever you choose! 
6 guided breathwork audios (1 per week) to support your  breathwork practice each week 
Private Telegram group for support and accountability to help you make the most of the Breath Quest  
Requirements: 
A pen and journal to document your journey 
10-15 mins a day to practice the techniques
Course description: 
'Breathe Into Vitality At Work' is a 6 week group online Breath Quest 
Each weekly 90 min workshop will open with a gorgeous live harp led breath awareness session where you will be guided by my voice and harp on how to connect with your breath. 
You will then learn a little about the basic science around breath and how it affects your physical and emotional health (I promise to make it super easy and fun!) so you can understand why the tools and techniques you learn actually work. 
Then it's time for the practical. Expert coaching in 1-2 super powerful breathing techniques/tools based in neuroscience that will help you skillfully manage your energy and stress levels so you can feel more confident, calm and focused; able to make better decisions and relationships.  
We will also explore how each of these tools/techniques can be woven into your daily life as a breathwork practice and - where applicable - used in real time situations.  
There will be Q and A time at the end of each workshop. 
In between workshops you will be given access to a private Telegram group where you receive 1 guided breathwork audio to practice from each day (5-15 mins a day) and where you can ask questions and receive support from myself and others in your practice.  
You will also be encouraged to journal your experience of the tools/techniques so you can witness your progress each day, learn what practices work best for you and by the end of the 6 weeks have created your very own breathwork practice, woven effortlessly into your daily life. 
This breathwork course is for you if: 
You want to stop feeling scattered and overwhelmed at work and more like 'you've got this' 
You want to make positive changes in how you work and live 
You want to invest in your health and wellbeing but don't have hours of time to dedicate to it 
You are ready to stop downing double espressos at 3pm just so you have enough energy to finish your work for the day 
You'd love to reap the benefits of a practice like meditation but can't concentrate or just dont have the time  
You are done with being knackered and frazzled and unable to enjoy time off with family and friends 
You love a bit of 'woo woo' but also have an the kind of mind that loves science based reasons for why stuff works too 
You are done with feeling stuck in a hamster wheel of stress 
You'd love to have a better relationship with yourself and others so that you feel happier and more connected  
 You want to experience less anxiety at work and more confidence 
I want 'Breathe Into Vitality At Work Now'!
Dates - Thurs July 7th 2022 - Thurs Aug 11th 2021
Times -7.30pm-9pm
The Investment: £200
BOOK NOW by PayPal or Debit/Credit Card